Musicians
John Allair: Keyboards
John Allair is called "Marin county's original rock & roller" by the dean of bay area rock writers, Joel Selvin. John has partly maintained his youth by touring with Van Morrison for over 30 years. You can see his classic performance with Van on the DVD: "Live at Montreux" back in 1974, or see his current genius with the Van Man on public TV's Austin City Limits broadcast. John Allair is also known for Toulouse Ta Truck, a 70's band in which he joined with Phil Lesh and Sons of Champlin guitarist Terry Haggerty. And Clifton Kaufman, owner of Cotati's Prairie Sun Studios, where Allair recorded his new album, "John Allair Cleans House," may have put it best, John is a: "buried treasure."
Pete Lind: Drums
Pete has played (and mastered) the boogie woogie with John Allair since the fifties! They played their first gig together at Lind's father's bar, The Forty Thieves in San Rafael in 1956. "The best feeling I ever had was playing rock 'n roll in high school," he says. "I try to get that back every time we play."
Don't miss some of the best boogie woogie you will ever hear with John & Pete's Rock for Hope videos. These guys know how to make music fun!
John Allair, Marin Independent Journal, by Paul Liberatore, 6/16/06
John Allair, San Francisco Chronicle, by Joel Selvin, 4/30/95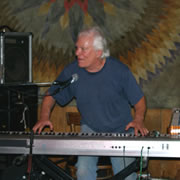 View more photos in our Gallery »